Bad design is a scourge, whipping us daily. Engineers need to be taught common sense, and mocked mercilessly, and by name if possible, when they inflict pain on us.
I am installing a Canon printer. They ask me for the model. Of course, they should care enough about their customers to have a separate set of instructions for each model. They, at least, do say where to look for the model number, but give literally 10 different places on the printer where it might appear. Also, the model is not The Pixma, but the TS3322. They show wanton disregard for the user. Everything is for the convenience of the engineer who designs it, not the 50,000 people who will be using it. The engineer is a high-IQ fool, of course, but the managers are supposed to be low-IQ wise men, who force the engineers to think about the customer. Instead, the manager let his marketing people tell him he needed a nice name like Pixma for advertising and to look nice written on the top of the machine, but compromised by letting the engineering fool keep the name TS3322 for everything else.
What should they have done? I'd need to know more. Ideally, they would have one name for one thing they sell, Pixma. Very likely, they keep fiddling with it, and there are lots of things they call Pixma, with other names ike TS3321, TS3322, TS3323, etc. that they themselves confuse all the time. In fact, I bet they make expensive mistakes all the time, telling the factor to make 23,000 TS3322 parts when they meant 23,000 TS3323 parts. Picking bad names hurts production, accounting, and management as well as hurting the customer. First, decide if you want to have to keep track of a dozen almost-identical products instead of just one product that isn't quite as good. If you do, then use names like the Pixma 2020 vs. the Pixma 2021, or the Aleph Pixma vs. the Beth Pixma.
##########################################
.
.The Mazda 6. I've reluctantly decided to stop owning Mazda cars, despite their many excellent qualities. I can't stand the bad design of the controls. Two examples:
.
1. The emergency brake. This is put on by a pull-button between the two front seats that turns a little light yellow when the brake is on. If there is sunlight, you can't see whether the light is on. I bet little kids are tempted to pull on it too, from front or back seat– it looks interesting and is completely unlabelled. This illustrates
(a) Lack of beta testing, testing by users instead of by designers or in-house testers (these should be labelled alpha-1 and alpha-2 testing). And their in-house testers are incompetent. Or maybe they don't have any.
(b) Lack of consideration of whether the design would be good under non-optimal conditions (in this case, even under pretty normal conditions, more generally under extreme but common conditions).
(c) Use of electric controls (the light at least), which are more prone to mysterious and non-obvious breakdown than mechanical controls (a lever that is up or down).
.
2. The radio controls. This is a long subject. In 1970, radios were vastly superior to those of 2020. Back then, you had a twiddle knob and analog tuning, so you could turn the knob, quickly or slowly, without having your eye on it, and go through stations hearing a snatch of each to tell whether they were talk, classical, or rock. There were knobs for presets, which you'd push in hard to set, and then press more lightly to go to the station— again, without having to do more than glance at the controls, if that (you could find the right knob by feel). Volume, of course, was a twiddle knob, rapid, precise, and easy to find without taking your eyes off the road. An analog strip showed whether you were at 97.6 or 103.7, showing the position along a line rather than just digits (which are harder to comprehend immediately), and which was easy to read in all lighting, unlike an LED screen in bright light. And, of course, the radio station information was always there, instead of being covered up by ads or special effects or the temperature or whatever else your modern LED screen puts up. The driver could look at all his controls at once, instead of having one screen that did everything and concealed almost everything at any one time. (Some modern autos at least have realized this and divide the screen into sections, each with its own information.) And you didn't have to worry about your computer going on the blink– the controls were mechanical or electric, not electronic. (Of course, if you far enough back (1955?) the radios had vacuum tubes that wore out, but that's not a defect of the controls.)
I found a You-TUbe on the evolution of the radio in the Volkswagen Golf. It's gotten so bad that I sadly will probably not buy the GTI, which might well be my first pick on everything else. It will be a hard decision. The video is pitiful. They show the first radio, which had analog controls that were clear, easy to use, and quick, and then talk about how much better the second radio was, which is vastly inferior. They replaced the twiddle button for tuning with something else, and it looks worse in other ways too. The decline continues. The engineer explaining the changes is clueless– he just talks about how it looks more and more modern and is fancier. The current radio uses hand gestures in the air. I bet it's impossible to learn and fails all the time, even when it's new. I could be wrong– but auto engineers seems like a really stupid group of people, too narrow in outlook to know what to design, even if they're smart enough to solve calculus problems.
##########################################
.
Thoughtless use of background and font colors. From a Paul Gowder tweet: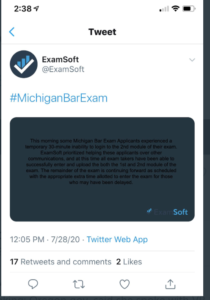 As he notes, somebody had to go to special effort to choose a design that bad– it isn't just the result of stupid use of a default. There are levels of stupidity; it is hard to plumb the depths of dumb.
A commenter said, "You should see how this looks in dark mode…":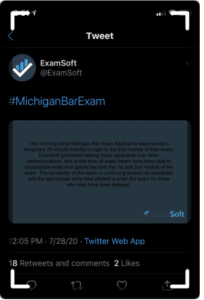 ##########################################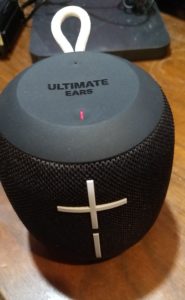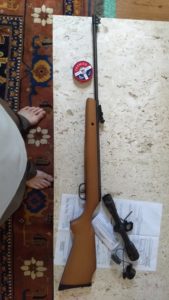 Every electrical device that is battery-powered should have a little light to indicate that the power is on. Otherwise, it's hard to know whether the battery is dead or not.
I have a soundcube in front of me with raised plus and minus signs to control the volume. A wheel is better.
Icons are stupid. Humans developed language thousands of years ago, and we should use it. Engineers are like apes, who must communicate by signs. No– much worse, because they don't realize it's important for the other ape to know the sign too. If engineers were apes, they would have died out long ago from lack of cooperation. Even as it is, but for women who do know how to use words, and notice their high IQ's and incomes, they would be quite unable to reproduce.