Hardware
Jump to navigation
Jump to search
Lawnmowers
Honda GVC-160 power lawnmower
This machine makes mowing lawns a pleasure.
Washing Machines
Maytag Commercial Washer, MVWP575GW
Most washing machines are heavily damaged by federal regulations that started around 2015. This one is okay.
Cars
Volkswagen Golf GTI
Volkswagen has decent controls, unlike Mazda, whose control screens are unacceptably bad. Here is a review of the 2020 GTI.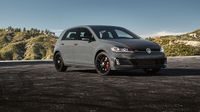 Fixing Stripped Screw Holes
Use Mr. Grip, Stripped Screw Hole Repair Kit. This is just a corrugated aluminum thick foil strip that goes into the hole and is gripped by the screw or bolt that can create threads in its soft metal. Very simple, easy, and effective.
Ladders
I just discovered this ingenious type of ladder, borrowing a similar one from my neighbor to change a high light bulb. Safe, and so flexible-- Lambda shape, or asymmetric, or straight, like one of those kid's multi-folding toys. At Harbor Freight, Franklin brand, tho that is not my neighbor's.