This is part of the split-up post, Should Rapists Edit Scholarly Journals?
Even better than Rafael Robb as an example is Kurt Mitman, managing editor of the Review of Economic Studies.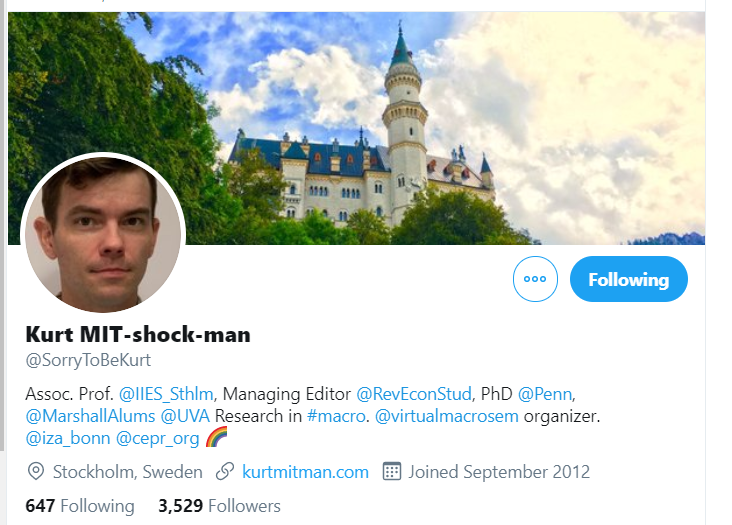 From the Palo Alto Daily Post's 2019 "Visiting Stanford scholar is a sex offender":
A visiting scholar at Stanford is a convicted sex offender who spent time in prison after pleading guilty to forcing himself on a 14-year-old boy in Pennsylvania in 2004.
.
Kurt Elliott Mitman, 37, of Palo Alto, is an assistant professor at the Institute for International Economic Studies at Stockholm University. He is doing economics research at Stanford through next month, his personal website states.
.
Mitman's past was first reported Thursday by the Fountain Hopper, an underground student newspaper distributed via email, which cited a 2007 story from the Philadelphia Inquirer.
Mitman became a student at Penn just about the time Robb murdered his wife there. I guess the University must have gotten to know a lot about the state prison system. Note that Mitman's offense was not just sodomizing a minor, which many liberals think is just fine and is legal in a number of European countries. It's not "statutory rape". It's "Involuntary Deviate Sexual Intercourse", which a law firm in Pennsylvania tells us is this (I have not quoted their rather disgusting examples and details):
The offense of Involuntary Deviate Sexual Intercourse ("IDSI") is committed when a person forces another person by actual physical compulsion or threats thereof to engage in acts of anal or oral intercourse.
Remember, too, that what commonly happens is that people like Mitman plead guilty to a lesser offense in order to get a reduced sentence. I wonder what offense is actually listed on the arrest warrant? Below, we'll see that there are various other charges on the court docket, but sodomy rape is the most serious.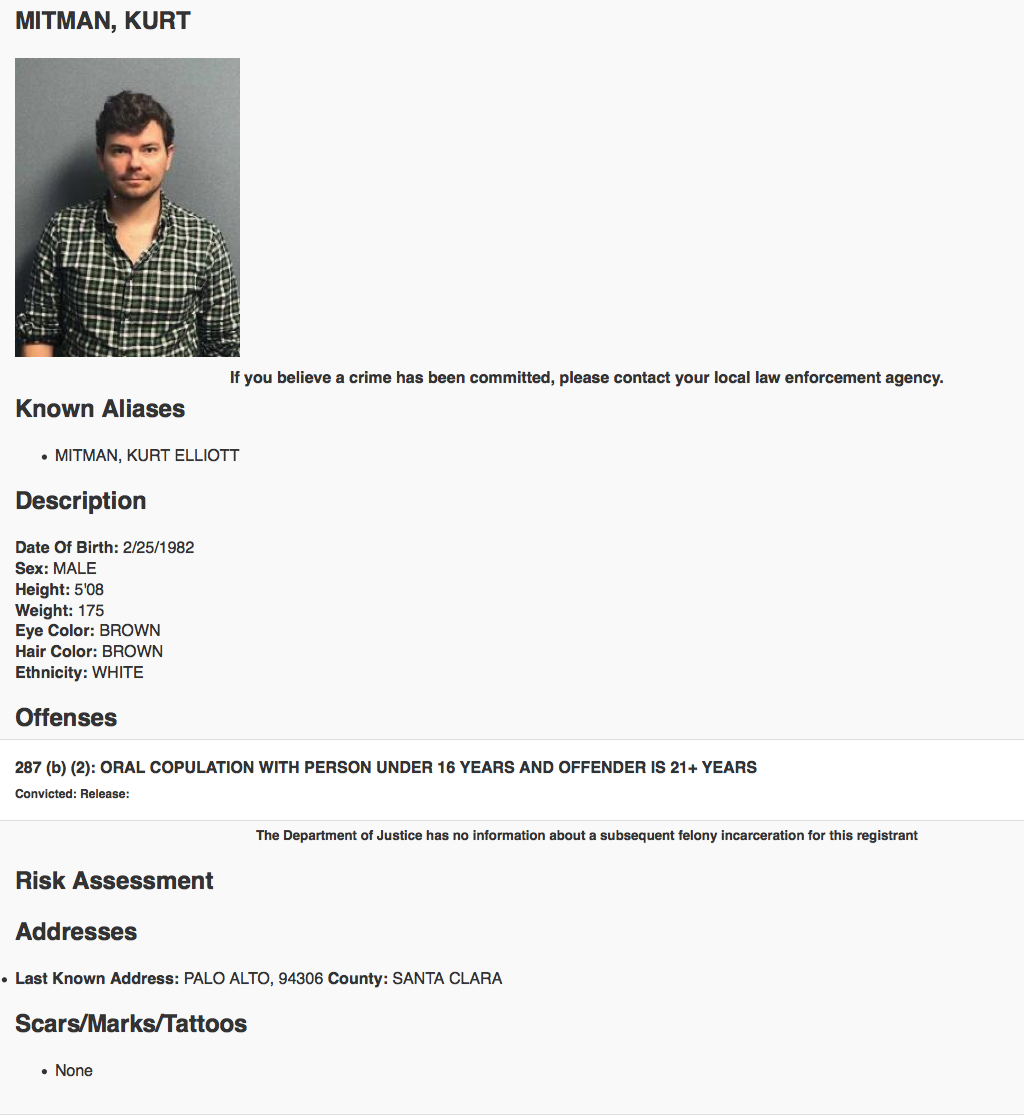 The 2007 Philadelphia Inquirer article, "Molester went from jail to Penn: Until last week, the college didn't know that grad student Kurt E. Mitman was a sex offender, held in a Bucks prison," says
A 25-year-old convicted child molester has been attending graduate classes unsupervised at the University of Pennsylvania, where he has an office, while still serving his felony sentence in a Bucks County prison.
.
The victim's mother had not been notified, as she had requested in writing, that Kurt E. Mitman of McLean, Va., had been freed for up to 12 hours a day, Mondays through Fridays, since July, driving his own car to and from the jail in an hour-and-a-half commute.
.
A Bucks County judge, after a court hearing yesterday, suspended Mitman's participation in the county's academic release program.
.
Judge C. Theodore Fritsch Jr. then gave the county Men's Community Corrections Center 10 days to draft a new release proposal, in consultation with the university, that would include provisions for monitoring the defendant while on campus and safeguards to protect citizens.
.
Diane Gibbons, Bucks County district attorney, said last night that her office would oppose letting Mitman out before he serves his time. "I have always and will always oppose release of sex offenders to any prerelease program, period. The nature of their conviction eliminates them."
.
The university learned just in the last week of Mitman's guilty plea in March 2005 to a charge of involuntary deviate sexual intercourse with a 14-year-old boy.
…
Jennifer Schorn, chief of special victims for the Bucks district attorney, said corrections officials had not notified her office, either, of the release of the defendant, who had yet to complete the minimum phase of his 2 1/2-to-5-year sentence. She requested the hearing to challenge the corrections officials' decision.
.
Schorn said she had to be told by the victim's mother, who discovered Mitman was attending classes at Penn while searching the state's Megan's Law Web site early last month.
.
Guy Waller, supervisor of the corrections center, acknowledged in testimony that he was aware the victim's mother had enrolled in the victim-notification program and that it was an error not to have alerted her.
.
Waller also testified that Mitman's supervising officer had been monitoring his whereabouts and had contacted university police to let them know that Mitman was on campus and about his offense.
.
However, subsequent testimony showed that the monitoring consisted of calling Mitman on his cell phone or Mitman's calling in to report his whereabouts – "self-reporting," as Schorn dismissively characterized it. Capt. Joe Fischer of the university police said the first call from the county on Mitman came Tuesday, almost six months after Mitman began classes.
.
Mitman was charged with assaulting the 14-year-old in July 2004 while the boy was staying with his grandparents at their home in Warminster Township. Mitman met the boy at a three-week summer camp for gifted students at Lafayette College in Easton. Mitman was a residential assistant; the youth was a camper.
.
Citing psychological testimony, Richard Fine, Mitman's attorney, said he was a "very, very low risk" for recidivism and was "just working to become a productive member of society." Mitman won a prestigious Marshall Scholarship to study physics at Oxford University in England upon graduation from the University of Virginia in 2004.
.
Mitman testified he had not told Penn officials of his criminal record when he applied in December 2005, nor when he met with them after his acceptance.
.
The victim's mother noted that if Mitman is eventually granted parole – he'll be eligible in September – he would be monitored more closely then than now, "a certified sex offender running freely though three counties without anyone being told."
Note that it says "county prison". Apparently he is in a county jail, not a state prison, unless perhaps Bucks County has its own prison for felons because it has so many of them. (County jails are ordinarily for people with misdemeanors and sentences of less than a year or people awaiting trial, not for felons with multi-year sentences.)
Kurt Mitman's CV tells us that he's been joint managing editor of the Review of Economic Studies since December 2019 (with his PhD Advisor Dirk Krueger— is that kosher? I guess so) and that he is a tenured associate professor at the Institute for International Economic Studies, Stockholm University, Sweden. He has both US and German citizenship. He received his BS in physics from Virginia in 2004, was a Marshall Scholar (almost as prestigious as being a Rhodes Scholar) at Cambridge in 2005, and finished his Phd at Penn in 2014. His parents are both career diplomats in the U.S. Foreign Service, EJMR tells us—and seem to be Hoosiers, too:
Father: Matthias Mitman of Virginia, to be the Executive Secretary of the National Security Council. Mr. Mitman, a career member of the Senior Foreign Service, class of Minister-Counselor, most recently served as Chief of Staff to the Special Presidential Envoy for Hostage Affairs. He previously served as Principal Officer in U.S. Consulates General in Jeddah, Saudi Arabia; Erbil, Iraq; and Basrah, Iraq. Mr. Mitman was also the Deputy Chief of Mission at U.S. Embassy Tegucigalpa, Honduras and Minister Counselor for Economic Affairs at U.S. Embassy Moscow, Russia. This will be his third detail to the National Security Council, having earlier served as Senior Duty Officer in the White House Situation Room and as Director for Iraq. Before joining the Foreign Service, Mr. Mitman taught as an Assistant Professor of Economics at Ball State University. He is a Distinguished Graduate of the National War College and earned an A.B. from Wabash College. https://www.whitehouse.gov/presidential-actions/president-donald-j-trump-announces-intent-appoint-individuals-key-administration-posts-8/
.
Mother: Susan M. Elliott, Ambassador (ret.) is an accomplished diplomat with an earned doctorate from Indiana University. During her 27-year diplomatic career, Ambassador Elliott held a variety of leadership positions at the U.S. Department of State. She became President and CEO of the National Committee on American Foreign Policy in August 2018. https://www.ncafp.org/susan-m-elliott/
The article, "Jailed sex felon enrolled as student: First-year Econ grad student took classes in now-suspended academic-release program", says:
First-year Economics graduate student Kurt Mitman had been released from prison for up to 12 hours per weekday since the summer, driving his own car one and a half hours to and from jail for classes, The Philadelphia Inquirer reported yesterday.
.
Interviewed yesterday, Doyle added that Penn's application did not ask for criminal background when Mitman applied.
.
The school did, however, change its application last year to include such information, Doyle said.
…
Richard Fink, Mitman's attorney, said Mitman had been transferred to a low-security community corrections center before being enrolled in the academic-release program.
One interesting bit is that it looks like Mitman was spending a lot of time outside of the prison even aside from being let out to attend classes. He had an office, where presumably he spent a lot of time, and did lots of "community service". I hope it wasn't spend counselling troubled teenage boys. The article " says,
Fatih Karahan, who shared an office with Mitman in the McNeil Building at 3718 Locust Walk, first learned of his conviction yesterday and was thrown by the news.
….
Fink said Mitman has always been very involved in the community, even in prison.
.
"He's performed 500 hours of community service" since coming to prison, he said.
See also the Daily Pennsylvanian's 2007 "Mitman's fate to be decided at hearing todayJudge to rule if jailed grad student can return to classes"
Schorn added that, although she could not forecast whether he would be released in September, Mitman might face difficulty obtaining parole because of his felony status.
.
"He's a felony-one sex offender," she said, noting this to be the highest class of sex offenders.